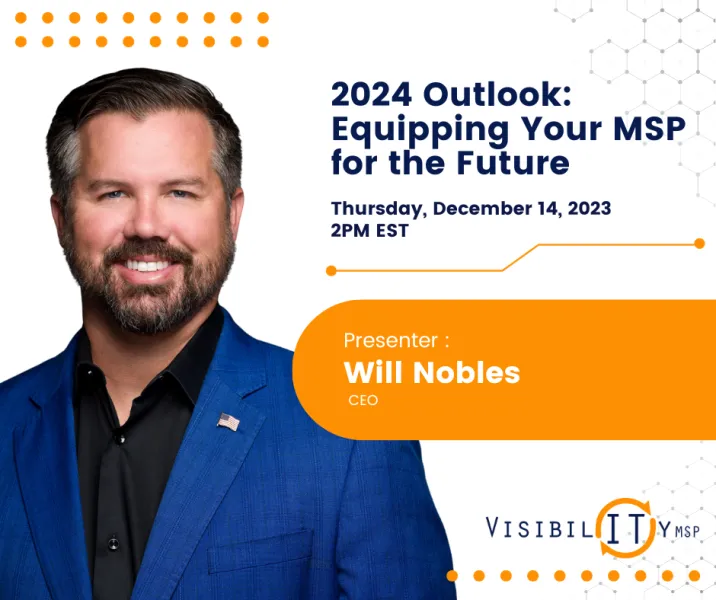 2024 Outlook: Equipping Your MSP for the Future

Thursday, December 14 at 2PM EST
As we prepare to embark on a new year, it's crucial to equip your MSP business with the knowledge and strategies necessary to thrive in the ever-evolving tech landscape. Join us for an exclusive webinar titled 2024 Outlook: Equipping Your MSP for the Future, where we'll delve into the key trends and insights that will shape the MSP industry in 2024 and beyond.

Webinar Highlights:

Unveiling the Trends

: Gain a comprehensive understanding of the emerging trends that will impact the MSP industry in 2024, including cloud computing advancements, cybersecurity threats, and evolving customer demands.



Strategic Preparedness:

Discover actionable strategies to prepare your MSP for the future, including aligning your services with industry trends, investing in cutting-edge technology, and enhancing your customer service capabilities.



Industry Insights:

Hear from experienced industry experts who will share their insights on navigating the ever-changing tech landscape and staying ahead of the competition.

Don't miss out on this opportunity to equip your MSP for a successful 2024!

Previous Webinars
Level Up Your Business: How To Identify and Sell High-Value Services
Are you looking to grow your MSP by adding new services to your operation? Join us for our upcoming webinar where we will explore how to identify new service opportunities! Our team of skilled business consultants and IT experts will walk you through the process on how to recognize and sell our white label MSP services, including Security-as-a-Service, Compliance-as-a-Service, and Help Desk-as-a-Service.
Help Desk-as-a-Service: No Overhead. No Hassle.
Are you looking for a way to improve your customer support? If so, we invite you to attend our upcoming webinar on Help Desk-as-a-Service: No Overhead. No Hassle!In this webinar, we will discuss the benefits of Help Desk-as-a-Service and how it can help you:Improve customer satisfactionIncrease team productivityStreamline support processesWith our team of experienced certified technicians, you and your clients get first-class support without the overhead. Our industry-leading tools and technologies help provide a top-notch customer support experience. And for your MSP, it's 100 percent hassle-free.
Compliance-as-a-Service
In today's ever-changing regulatory environment, it can be difficult to maintain and understand all the mandatory compliance requirements. Compliance is a necessary tool you can offer your clients to avoid business crippling fines and penalties. Offering compliance then puts your MSP at a competitive advantage.CaaS is tool that provides MSPs with the tools and resources they need to help their clients stay compliant with mandated regulations. VisibilityMSP offers a variety of services including employee policy training, written policies, GRC site creation, ongoing network & vulnerability assessment scans and more.
VISBILITYMSP: Your MSP's Secret Weapon
We offer a wide range of white label services to help MSP's compete against the Mega MSP's when it comes to cost, overhead, and experience that is required in today's market. From services like SECaaS and CaaS to our PSA Sync Tool, we will help you grow your MSP business, keep your clients safe, and provide you with a competitive advantage all from behind the scenes.
Security as a Service (SECaaS)
(SECaaS) is a cloud-based security solution that provides businesses with a comprehensive set of security tools and services. SECaaS can help businesses of all sizes to improve their security posture, reduce their risk of cyberattacks, and save money.
The MSP Mindset
If you want to differentiate your MSP business and become a leader in the industry, it's time to adopt the MSP mindset.
Start by taking responsibility for your success, learning from other successful MSPs, and taking action towards your goals.
Schedule A Consultation Today